Odoo Accounting

The modern choice for CFOs - all company business processes, including accounting, can be run in one place.

In many small and medium-sized enterprises, the finance department uses 5-10 different systems. In internationally operating companies, the country-specific entities still operate in their own silos. Processing and managing data between several different software products increases the workload of data transfer, and the risk of human error grows. With Odoo, you can manage everything in one system in all countries where you operate.

Odoo manages all company processes, including financial management tasks, in one place. Odoo produces data, trends, and real-time reports to support decision-making and business development. When accounting and financial management is an integral part of the company's ERP system, the finance department also has a strong role in developing the business and improving profitability and customer satisfaction.

It is not uncommon for finance departments to use different software for vendor bills, expense and travel invoices, invoicing, accounting, reporting, bank integration, online banking, fixed asset accounting, cash flow forecasts, budgeting, and forecasting. In addition, country-specific entities use different systems.

Does this sound familiar and difficult? There is another solution. All company business processes, including accounting, can be run in one place. In Odoo.
Global accounting and financial management system made local

At SprintIT, we have worked hard to make Odoo accounting the best choice for CFOs in internationally operating companies. We develop it with our customers and Odoo partners in different countries. Odoo accounting features are continuously developed according to changing legislation and customer needs.
Thanks to our extensive partner network, Odoo accounting features cover the accounting requirements of most European countries: Odoo's electronic and automated accounting includes, among other things:
Country-specific chart of accounts *)
Income statement *)
Balance sheet *)
Country-specific invoice templates and reference numbers *)
Tax reports required by local authorities *)
Bank and e-invoicing interfaces in the Nordic countries **)
Routing and approval of vendor bills
Retrieving bank statements directly to Odoo (no CSV file imports from a separate system)
A true multi-company environment, consolidation
Plenty of automation of routine tasks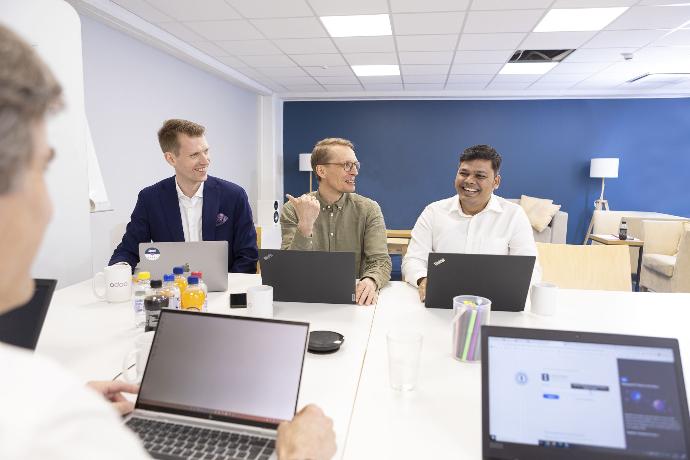 *) Always checked country-specifically with the local partner
**) The interfaces comply with the legislation of each country and meet the requirements of local authorities.
Country-specific additional features are also available through our extensive partner network.
Financial management at the heart of operational management

We believe that financial and operational management should not be separated from each other. Do you know what kind of financial software would best support your company in its operations? We prepared a guide to help you answer the question!

The guide contains a comprehensive table of functionalities, and it compares the common software used by accounting firms in Scandinavia.

We provide a financial management software for Odoo that meets the requirements of the accounting legislation in Finland and Sweden. With our partners, we can offer localized financial management modules in almost any country.

Download the guide below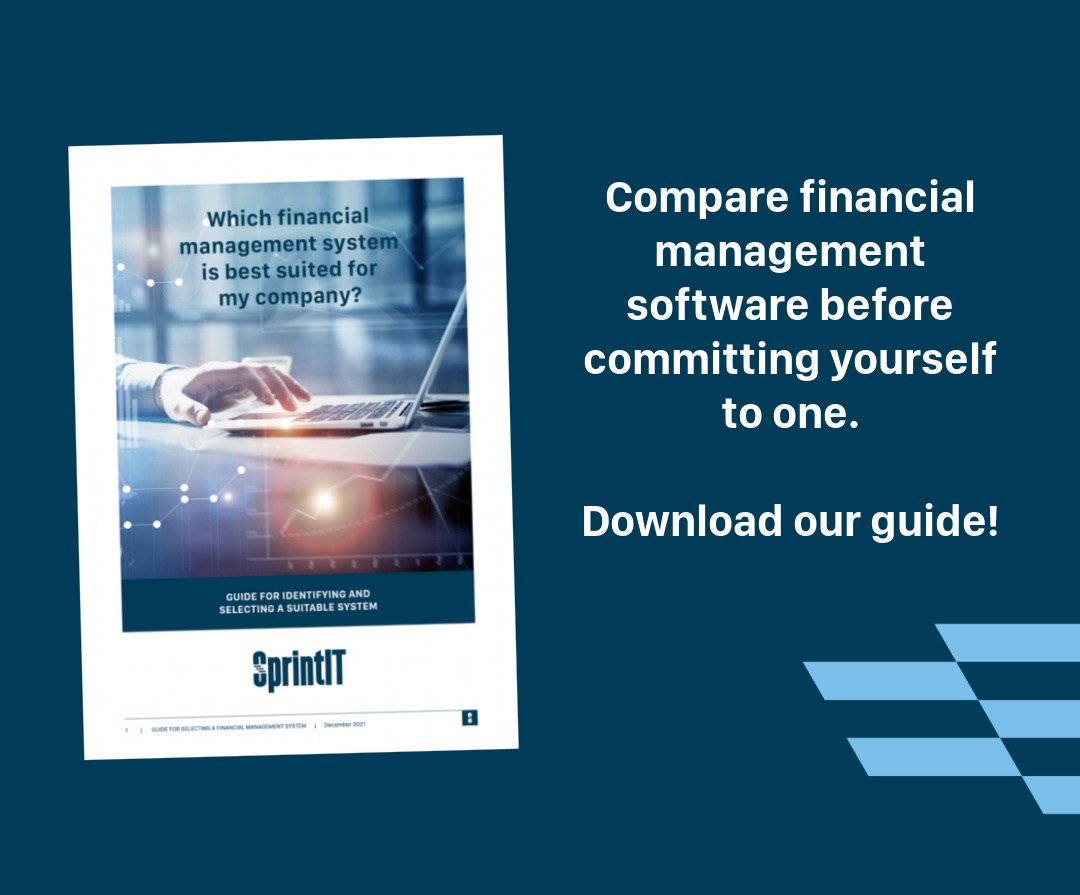 Are your financial figures up to date from your accounting firm? Do you react quickly enough?
Accounting firms are often a company's most important administrative partner. Sometimes, they are so important that they decide for you which accounting software your company should use. If the accounting software chosen by your accounting firm is standalone and only integrated into your company's main ERP system, it is typical to receive profitability and accounting figures to support decision-making with a delay of weeks or even months. Quick response to changing situations is then naturally impossible, and there is a risk of making poor decisions.

Thanks to Odoo's real-time reporting capabilities, anticipation is possible and proactive action in changing situations is fast. Reports are easy to customize to serve your own needs and goals. When you need detailed information to investigate something in more detail, you can drill down from reports to individual accounting entries. You can read more about Odoo's reporting capabilities in the blog: Does Financial Reporting Support You in Decision-Making?
KPMG Belgium chooses Odoo
KPMG Belgium has chosen Odoo as its primary technology partner. The choice is, in KPMG's words, revolutionary and will revolutionize the lives of its accountants.

Choosing Odoo technology supports KPMG's strategy of renewal and continuous development.

KPMG's decision to move to a "one software" tactic and a fully integrated software allows for seamless communication and smooth cooperation with customers, as well as the automation of many processes.

"Odoo's accounting module, its invoice recognition features, the use of artificial intelligence, and the ability to integrate a wide range of business applications enable the automation of routine tasks and time savings. In the future, KPMG's accountants can focus on more productive work and supporting core business. Odoo enables real-time accounting, which is available anytime, anywhere."
With Odoo, you can automate the routine work of the finance department
With SprintIT's Odoo accounting package and other SprintIT modules, you can simplify and automate various accounting tasks in Odoo, such as:

Sales and purchase invoice processes
Creation and sending of invoices
Creation of consolidated invoices
Sending and receiving e-invoices (FIN, SWE, NOR, DEN)
Sending of payment reminders
Collection of accounts receivable (FIN)
Approval of purchase invoices and other receipts
Processing of invoice tax rates
Processing of bank statements and accounts receivable and payable (FIN, SWE, NOR, DEN *)
Matching of purchase invoices and orders
Deferred revenues and expenses
Other accounting processes
Financial statements and balance sheet breakdowns (FIN)
Processing and payment of travel and expense reports (FIN, SWE, NOR, DEN *)
Inventory accounting
Recording of planned depreciations


Regulatory reporting
Tax report and EU summary declarations and payments (FIN)
Intrastat report for customs (FIN)

*) Selected banks

Transparency in all company processes ​

Audit Trail
Within the scope of user access, the user can access individual accounting entries from a selected report.

Dashboards
A customized desktop view can be built for each role to facilitate and guide their work.

Document management
As Odoo is an all-in-one business solution, there is no longer a need for email exchanges to transfer documents between different systems. Documents are always easy to find.
Comprehensive transparency throughout the company
Thanks to Odoo's "one-system logic," functions can be automated across different business processes.

With Odoo, you can automate processes such as creating a customer project and associated tasks based on a sales order.

Customer-centric approach
Customer information such as purchase order, invoicing, sales order, project details, etc., are always visible in customer records, and it is easy to track them on the customer card and drill down to desired information.

Open source ensures agile and cost-effective development
Traditionally, accounting software and ERP systems have been so-called closed systems. Developing these systems is slow and expensive. In contrast, Odoo is based on open source, which allows for software customization to meet the needs of companies of different sizes.
If you choose Odoo as your company's accounting and ERP software, you don't have to worry about being left alone. The number of companies using Odoo is growing rapidly. Already over 7 million people in 200,000 companies* are working effectively with Odoo. (*as of 2022)
Are you interested in growing your business with Odoo?
You're in the right place!